Inclusion into the IAM Strategy 300 list for 2016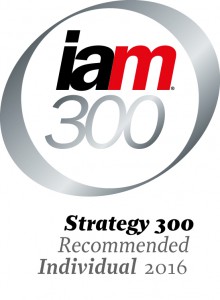 Truly a "Standing on the shoulders of giants" moment – for the 3rd year in a row I have been listed in the 2016 edition of the IAM Strategy 300, which was published  last month.
I am particularly thankful to my peers for nominating me for inclusion in this years list.   When I started investing in my IP education 17 years ago, seemingly "before it was cool", I did it because I was passionate about the topic, getting insight from every piece of literature I could.  As a result of my efforts, I'm now humbled to be listed along side world class IP lawyers and consultants, as well as IP heads from companies like Google, Amazon, Ford Motors, Nike, and Apple.  I've come far, but still have a long way to go!
My congratulations to all those that are on the list in 2016.
About the IAM Strategists 300: Over the course of several months, IAM researchers spoke to a wide range of leading IP professionals in order to identify people considered to be world-class IP strategists: men and women whose business is the creation, development and deployment of strategies that enable IP rights owners to gain maximum value from their portfolios. Only those individuals considered and nominated by their peers to be outstanding IP strategists are listed in the IAM Strategy 300. The IAM Strategy 300 is available in printed format and online at www.iam-magazine.com/strategy300.