The Fundamentals of a Patent Strategy
I recently authored the INTIPSA IP Strategist Column in the July/August 2014 issue of IAM Magazine, entitled "Using a patent roadmap to lay the ground for an IP strategy".  I centered the article around the challenge I recognized many companies face:  Ideally an IP strategy should be defined from the outset, but there were many practical cases where this was not always possible.  For these situations I outlined some practical steps in the form of two best practices for "IP advance positioning" that IP professionals or CIPO's can undertake to build a quality portfolio before a strategy is fully developed or approved in the board room.  The methodology can be applied to startups, small and medium entities, and larger entities that usually require a lengthy runway to develop and deploy a roadmap.
While an IP strategy is the gold standard, it is not always possible due to constraints on time and resources. However, a patent roadmap and partial deployment by IP teams can still make a difference to an organisation's bottom line.
The magazine is quite good, focused on the real business side of IP, and I would recommend you subscribe beyond the trial if your budget allows.
The article is part of a larger discussion or workshop I often end up having with growing ventures that recognize they need an IP Strategy, but need to make some tactical filings first due to time, bar date, or budget constraints. The larger discussion contains additional best practices and is built around the three critical components of strategy, process, and people. I often refer to these as Components of the Patent Engine – all three are required for the long-term success and scalability of a program and can be adjusted to work in all environments: startups, technology offices, local business units, national teams, and corporate global entities.  As companies grow there is an expanded set of components that mix in legal and corporate views, but the foundational three are always consistent.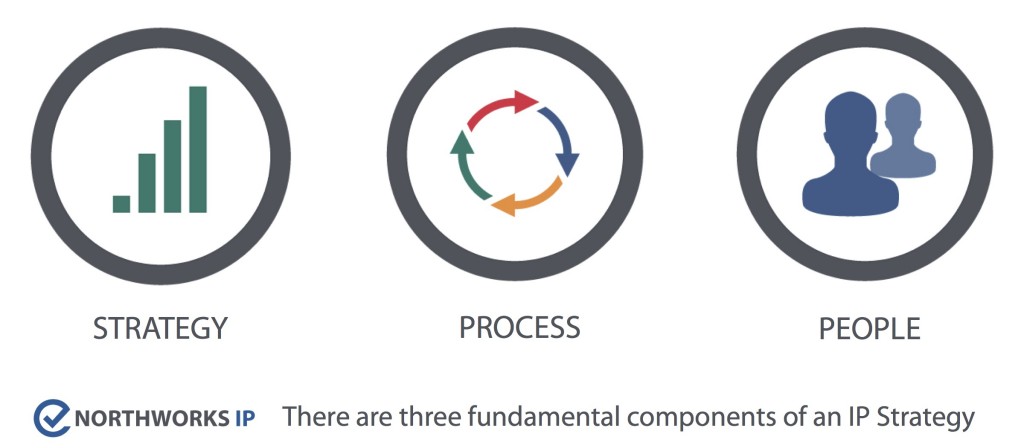 The Components of the Patent Engine:
For Strategy
›  The strategy component defines the vision and mission of any patent plan. This includes the strategic intent (where the venture needs to be) and strategic actions (top-level actions to achieve the strategic intent).
For Process
›The process component defines the infrastructure required to move ideas to patents and is important because it can be replicated in an efficient and scalable manner. It also ensures key stakeholders are involved in relevant decisions and enables monitoring of KPIs and other measurements of success, inefficiency, or failure. Most importantly, and because the patent process is fairly lengthy—upwards of four to five years from idea to a granted patent—it ensures tracking and knowledge continuity as staff and counsel depart over this time period.
For People
› The people component defines the organizational behaviour aspect of deploying and supporting any patent strategy or process. It is the foundation of an IP-centric culture.
In the business environment different ventures may consider an IP strategy for varying key reasons, for example:
Startups, SMEs – protect the fundamental technology, while accounting for technology pivots; Spend limited resources wisely.
Accelerators & incubators – identify which ventures need IP as a core strategy, and mentor them successfully.
VC & Investors – Instill process to reduce costs, set expectations for an IP ROI for the teams, and increase valuations for the next exit round.
Universities & TTOs – focus on mining and identifying the best research areas to focus IP investments in, and link those to commercial benefits.
I will use another post to dive into the 3 components but the common thread is to position & protect growth while deploying processes that will support the IP vision and scale up as growth happens.  Whether you define a full IP Strategy, or deploy an IP roadmap ahead of approval, any IP planning action gives IP leaders a response when asked in the boardroom "What IP do we have, and is it useful for our business? ".
For those wanting to know more about IP Strategy, feel free to contact me.  If you are looking for external references on IP strategy, check out both IAM Magazine and INTIPSA (International IP Strategists Association) for more IP-Business related content.