How SME's can strategically manage IP during economic events (Step 8)
This is Part 8 of a 8 step series on how SME's can strategically manage IP during economic events: Asset leveraging
The key to successfully managing strategic IP during economic challenges relies on the ability to actively mange IP assets in new ways.
The constant change of IP needs
Due to the fact that the IP lifecycle of registered IP rights can last at least 10-20 years if properly maintained (and some unregistered rights in perpetuity), a structured approach to map and assess IP assets will provide a critical foundation to asses the impact of changes in internal business plans or external market shifts. This will be important because over time many organizations will see risks and rewards shift, IP talent requirements change, and trade offs between operational budgets vs IP retention discussions will occur. This structured approach ensures IP needs will be kept relevant with the realities of an organizations IP position.
One immediate outcome of this iterative approach to managing IP is there becomes a pathway for active review of assets to look for new opportunities. This includes asking the following questions:
For ongoing prosecution of patents, are their new claims that can be considered to cover the market evolution or market shifts? This may include market expansion of the current business or spin-off creation of new businesses.
For granted patents, are their existing patents that now cover newly created market opportunities that become the basis for out-licensing? This includes both technology transfer (know-how) as well as patent licensing.
For the IP intelligence gathered, are their new opportunities identified to bring forward for the business to act on?
Finally: Bringing it all together
This discussion is meant to help define a structured approach to evolving an IP strategy based on market changes, with practical steps under the following general stages:
Building an IP foundation (Steps 1-5): This starts with understanding what IP rights or opportunities a business may have, and working to understand what rights have higher value and what rights may have less so there can be a prioritization of efforts and costs. Next it considers resource (talent, budget) requirements over a defined IP lifecycle window, and a check to ensure IP rights are still aligned with market and business needs.
Updating IP plans (Steps 6 and 7): Use of external IP advisors can add critical IP intelligence needed to ensure the IP foundation is still well positioned, and any new market or business shifts are now accounted for in any go-forward plans.
Leverage (Step 8): With a new strategy in place, active reviews may provide new opportunities to leverage (new business spin-offs, new technology transfer or licensing programs). This could could be seen both as defensive positioning to block competitors, or offensive leveraging in the form of monetization plans.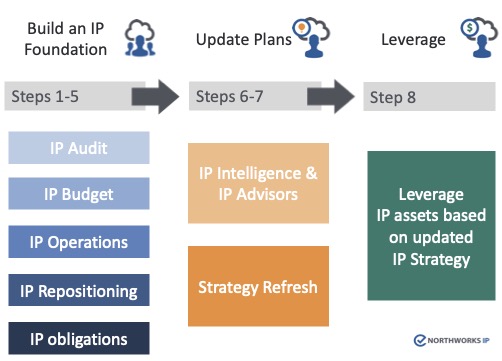 In uncertain economic time – either for a business or an economy as a whole, finance and cash flow management is a critical aspect to ensure sustainability of the business both in the short and long term. For SME's holding or needing to support their IP (patents, trademarks, etc), it is even more critical as working capital is required for ongoing IP related costs as well as continued investment to ensure future rights are still available once these difficult times have been weathered. These stages and the details in the steps outlined, provide tangible points SME's can consider and take action on today.