Before IP, look for Relevant Innovation:  Identify and capture innovations …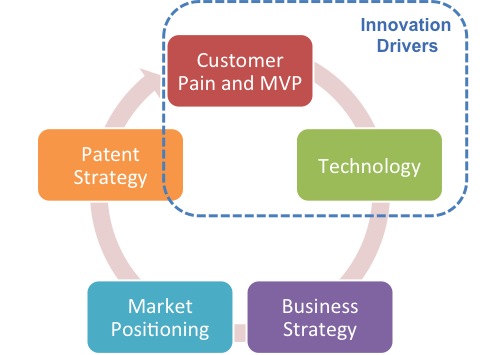 Innovation is the execution of an idea – from a concept to market ready product.  This happens through the discovery and capturing of ideas, and then onto customer validation of the concepts. Without a strong focus on innovation processes, strategic patenting is reactive, not a proactive step in growing your business value.
Using Design Thinking and Lean Startup based methodologies we can help clients see how their new or existing operations could look in the future, and what products need to be developed to get there.
"Design thinking is a human-centered approach to innovation that draws from the designer's toolkit to integrate the needs of people, the possibilities of technology, and the requirements for business success." —Tim Brown, president and CEO of IDEO
Discovery > Capture > Customer Validation
The output: a customer validated Minimum Viable Product that can be moved both into market, and into the stage   of long term valuable patent protection.