This is Part 3 of a 8 step series on how SME's can strategically manage IP during economic events.
The key to successfully making large IP operational changes is rooted in understanding your IP talent, specifically understating all "IP supporting" roles in the company that interact with IP assets – from R&D, management, finance, to human resources, investors, and IP teams.
Successful IP operational changes are much more about changing a process or mandating a lower budget spend …
Innovation outputs are undoubtedly coupled to Intellectual Property (IP), but what happens to the IP when the innovation environment shifts? As a firms outputs grow or contract, should the IP shift in parallel, or is it stand-alone enough to warrant separate considerations? How can firms implement a standardized budget reduction for costs savings, say 30%, knowing the innovation cycle can be paused but the associated IP costs such as maintenance fees may still remain?
These are questions that firms should be considering if the firm itself is going under transformation, or even an IP operational shift needs to happen – impacts of changes on intangible assets need to be considered. But to ensure continuity of an IP portfolio or effective operational changes to a portfolio, one critical consideration is the breadth of talent that should be involved in large IP operations changes. In short, firms need to understand the talent or "IP culture" overlap that is typically connected in various other roles: Human resources, R&D teams, finance, investors, etc.
A first perspective – IP support at an operational level
For example, consider a typical firm that has a simple portfolio management process laid over top of an innovation cycle, where 1) IP is created, 2) IP actions decided on, and then 3) business (IP asset) outputs are generated.
As seen in the figure below there is overlap in the entire process by R&D, management, finance, contractual or funding support teams, human resources, marketing or investor executives, and finally legal or IP executives.
For a firm pausing or winding down innovation programs: the management decisions of portfolio or maintenance questions still require discussion. For a firm downsizing R&D or other talent groups: there is know-how or institutional knowledge that may be lost. In all these cases, if IP talent is overlaid with the innovation cycle one can begin to see the reaches IP changes have with various roles and responsibilities.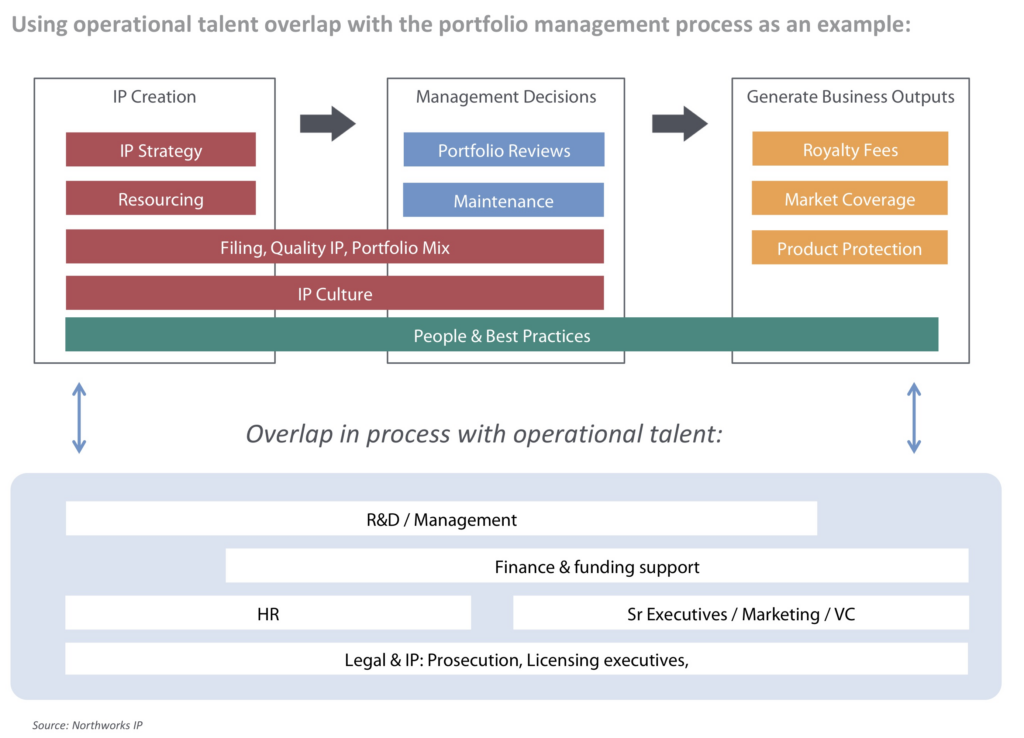 As one may realize, despite a shift in innovation programs or even a shift in operational direction, some IP may be shifted in parallel yet other IP assets may be worthy of separate considerations. This highlights that any large firm change which impacts IP operations or actual intangible assets really needs considered beyond a narrow "IP only" mindset. This is key because this mindset will ensure any IP changes are done with the larger firms team weighing in on the larger firm-wide impact of changes. For example:
Are you downsizing? Human resources need to ensure exiting or incoming employees have interviews to ensure departing employees are aware of trade secret obligations and incoming employees are not bringing IP (a topic seemingly in the news when it comes to Autonomous Vehicles, as seen by Uber/Waymo/Google and Tesla/Zoox).
Are innovation or research projects put on hold? IP or internal R&D teams reducing staff need to ensure institutional knowledge on IP files are codified, so management decisions and future product protection can be revived efficiently in the future.
Is there a blanket cost reduction request?  Leadership or finance teams implementing cost cutting measures need to consider IP cuts differently, perhaps not a fixed cut as a goal but more from the view of which core IP vs non-core IP reduction to move forward with and seeing how that decision impacts the firm in the future. Once IP is given up, the innovation programs can be restarted but not always with the IP to support it.
A second perspective – IP support by talent interaction
One needs to also consider roles outside the organization, more specifically talent that interact with an IP team to help manage and grow the IP assets.
An analysis of high-growth SME's who had strong IP positions revealed at least 12 different roles interacted to support the IP assets, yet typical businesses only engaged approximately 3-4 of the roles in a typical IP program. Those that did consider IP from a strategic view often included a mix of external and internal roles that one would normally consider: IP attorney or agents, IP based analysts, IP strategists, licensing executives, etc, but also included influences by other talents on financing / funding, as well as board or investor level interaction.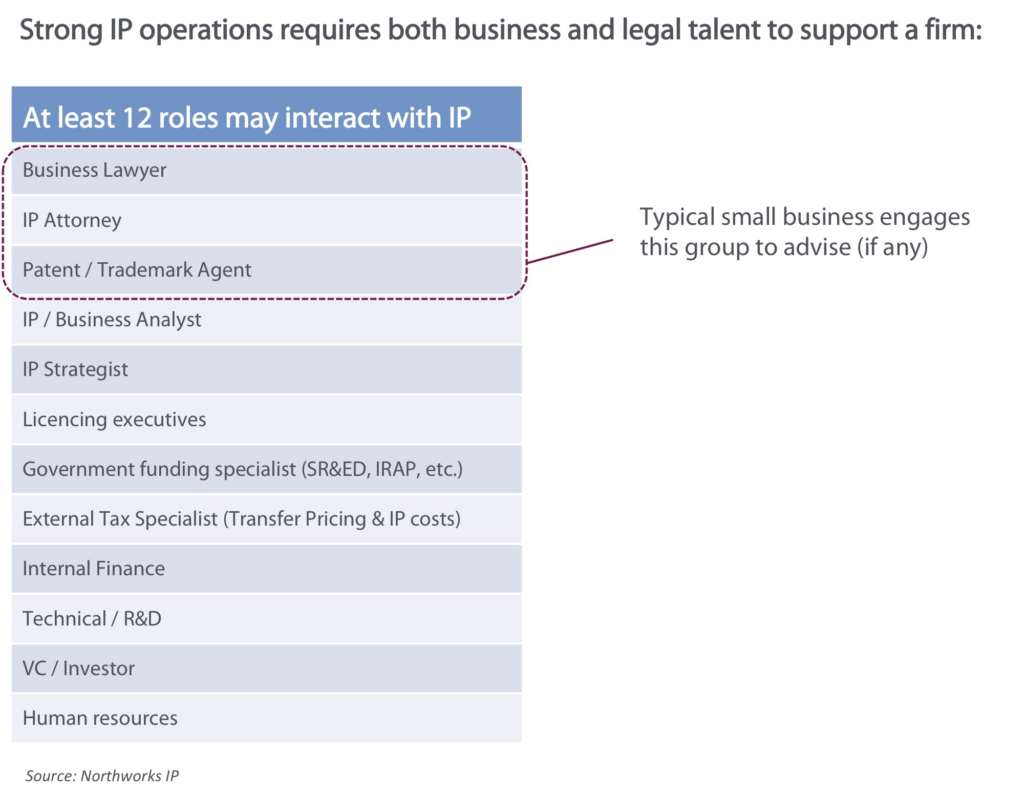 Why is this important for strategic management of assets? Discussing or implementing large shifts in IP operations due to economic events with these roles will undoubtedly provide myriad of views and impacts to consider, and give the IP team a clear understanding of impacts due to change. At the very least, engaging this wider list of talent can be used as a sounding board to query on how intangible asset changes will impact their current mandates (and ability to achieve future mandates!).
Moving forward
Preparing for IP right-sizing or IP asset growth may be seen as an operational exercise: Reduce patent filings, abandon un-used registered trademarks, or even just hold or slow on innovation delivery. However, intangibles are often an asset class that has a long life if maintained and managed correctly, yet just as easily "walk out the door" with a key employee.
While an IP team is traditionally the operational owner of the intangibles, there are numerous traditional business and operational roles that need engaged to make any successful and lasting operational change. For a firm to strategically manage IP during economic events, engaging to understand impacts and gather different perspectives will enable the IP team to see the impact of potential changes and adjust the plans as needed. Even for a SME, if these roles are a single person with multiple responsibilities, it still will allow for discussion around deep IP changes and the short / long term impacts it may have in the overall organization.
If a firm has conducted an IP audit (Step 1), prioritized assets through budgeting (Step 2), working to understand the global talent pool that supports the core and non-core IP assets will provide insight into where IP operational changes can be made with minimal impact and maximum cost. Likewise it will help flag operational inefficiencies as well as clear "high risk zones" to continue supporting through any economic event. The end result will be the ability to make large operational shifts while understanding the full impact to the organization and, more importantly, understand more clearly where the intangible assets and value will be in the future.
Up next in Part 4, applying IP audit, budgeting, and operations thinking into portfolio repositioning.