Top 5 IP challenges – and solutions – for all executives in 2015 (Part 2)
Last post I outlined the top 5 IP challenges all startups, investors, executives, and business leaders – not just IP focused leaders – will have in 2015.  These challenges directly impact R&D departments, legal groups, innovation teams, and even finance departments.
The challenges revolve around the need for an evolving IP leadership. Why? The status quo of simple IP-maintenance will not properly address how global competition and accelerated technology development timelines have fundamentally changed how successful businesses need managed.
To address this, there are three key actions that corporate leadership can undertake to solve the challenges:
A brief case study as an example of why the status quo will not suffice:  The automotive industry has undergone significant changes in the past 5-10 years, and the need to adapt IP for the next years is evident.    The recently released Thomson Reuters "State of Innovation in the Automotive Industry 2015" report shows while innovation and patents continue to increase, specific sub-sectors such as propulsion are rising at a high level in comparison to other sub-sectors such as navigation or infotainment.   But are patents still relevant given recent news in this area?  Tesla announced they were offering their entire patent portfolio for use, and Toyota recently followed suit by offering "royalty free" licences for 5680 patents in relation to propulsion.  In looking at the details, the answer is still a resounding "yes!".

It is not as altruistic as it may seem – with market adoption being more important than IP in the short term, the environment is such that while little IP coverage may be required at this time, in the future some market leaders are still planning on leveraging IP.  Toyota realizes this and the fine print of their patent offer is for a limited time (five years) for certain patents related to the hydrogen infrastructure .  As a result of the change in environment, for automotive related businesses with R&D in electric vehicle or fuel cells, it is becoming clear that once the tipping point of market adoption happens there will be IP requirements to play in this market.
Action 1: Understand the new IP environment
Specific industries and sub-industries are seeing an uptick in both enforcement through litigation, as well as increases in other IP metrics such as filing pace, breadth, geographical coverage, and new assignees.   While much of the data can be done through patent landscaping and mining, it is important that business intelligence is extracted from the data, not just simple data trends.
In more detail, it is important to understand how the IP environment is changing at the market level by the following tasks:
Investigate Patent Trends:
Review and understand the patent trends in both the businesses main sector, as well as supporting sectors.  Patent trends include patent volume and technology segmentation, which will allow for insight into top company and competitor R&D plans. This includes litigation based metrics and an understanding of where both practicing entities and non-practicing entities believe there is offensive revenue opportunities to leverage.
Investigate Merging Technology Trends:
Review and understand where complementary technologies are merging into the same field. It is the Complementors of today that are merging to be the direct competitors of tomorrow. For example, five years ago the automotive industry had Complementors of GPS companies who could provide the 3rd party mapping devices. Today this same technology is embedded in the automotive displays.  Considering a patent term of approximately 20 years we can see for this shift is important to not only look at where competitors are moving, but where the Complementors patent trends are moving.
Action 2: Realign patent objectives
Aligning the internal patent goals to adapt to the external IP environment ensures execution of the process generally will result in a more targeted portfolio.  The alignment needs to take into account the realistic impact it will have on internal groups, as well as interaction it will have on corporate strategy direction, partnerships, or other externally focused plans.
In more detail, the following tasks can be taken:
Create optimum portfolio position:
The optimum portfolio can vary by portfolio size, geographic coverage, profiles on claim and evidence of use coverage, timeline of portfolio growth, and other measures.  To build on the patent trends and technology trends noted earlier, a portfolio position should account for what filings exist, and what new filings or claim changes need made to achieve the required portfolio.
Define the resource impact:
Execution of a portfolio change will not come without resource needs, either accomplished via external counsel or internal staff.  It is important to identify the realistic required budget and human resource changes needed to deliver on the optimum portfolio.
Action 3: Create IP Leadership
Merely defining a strategy is of little value unless a team can execute towards the goal.  As such a clear ownership of responsibility and delivery of results needs to be established – from the inventor all the way to the board level.
Management and corporate leadership can lead this action by the following tasks:
Education, awareness, and ownership:
New plans require the team understand the expectation of IP has been altered, and in doing so expected outputs of teams will be changed.  In technical teams, this may be a shift in a general patent scope towards specific focus on technologies of interest. In legal teams this may be a shift in patent volume towards a "quality of use" metric. For the C-suite this may be a shift in how IP reporting and metrics are discussed in monthly or quarterly review meetings.
Responsibility of IP:
Building on the two actions above, once the IP environment is understood, and new plans are developed to address the changes, ownership needs defined.  The definition of 'ownership' will vary, depending on the state and size of the venture, but at the root it must be clear who and at what level in the organization the responsibility lies for successful delivery of the objectives.  To build on this, the ultimate leadership must lie within the C-Suite of the organization, where patent direction, quality, and metrics are actively reviewed.  Merely reducing a patent metric to an annual "KPI count of volume filed" will not create the lasting IP leadership in the organization that is required to manage the changes needed for today's IP environment.
In Summary: Strategy, Process, and People.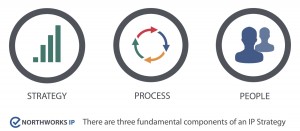 Earlier, we looked at why the status quo of simple IP-maintenance will not properly address how successful IP needs managed. In the points above we addressed three key actions that corporate leadership and local management teams can undertake.
In the recent years, the speed of technology advancements changing how IP needs to be approached. During the next few years the mark of a successful IP related businesses will have one theme in common – they all will have redefined their IP strategy, refined their IP processes, and redeployed their IP resources.